Phoenix is a city of endless opportunities – tech startups, burgeoning healthcare, a booming real estate market – you name it. As a young professional, choosing where to lay down roots can be an overwhelming experience.
But fear not! I've done the legwork for you. Here's a list of 10 Phoenix neighborhoods that will perfectly blend your professional ambitions with a lifestyle you've always dreamed of.
1. Downtown Phoenix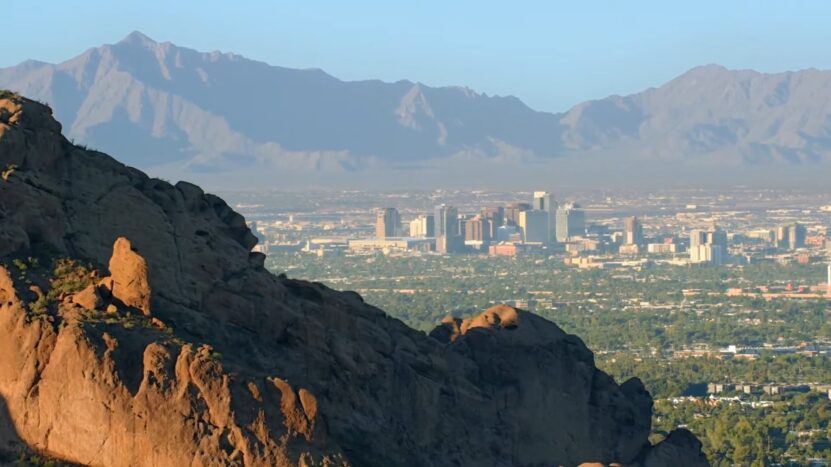 Epicenter of Business: Home to an array of corporate offices and start-ups.
Entertainment: An eclectic mix of bars, restaurants, and cultural venues.
Accessibility: Easily navigable via light rail or a quick Uber ride.
Downtown Phoenix is the city's pulsating heart, alive with a myriad of opportunities for young professionals. This area is no longer just your 9-to-5 locale; it's evolved into a dynamic living space that combines work and leisure.
From modern apartments to charming historic lofts, the housing options are diverse and surprisingly affordable. Getting around is a breeze thanks to the Valley Metro Rail and the ubiquitous rideshare services. Say goodbye to stressful commutes! But it's not all work and no play; the cultural facets of Downtown Phoenix, including theaters like the Orpheum and art galleries, add a dash of sophistication to your life.
Whether you're in finance, tech, or the creative arts, Downtown Phoenix puts you at the center of it all. Networking opportunities? Endless. Social life? Thriving. A fulfilling career and personal life? Guaranteed.
2. Roosevelt Row
Artistic Vibe: Known for First Fridays, art walks, and trendy galleries.
Affordable Living: Studio and one-bedroom apartments are plentiful.
Community: Tight-knit, diverse, and welcoming.
Roosevelt Row, fondly known as RoRo, is the epitome of urban cool. A neighborhood bursting with murals, galleries, and studios, RoRo is perfect for the creatively inclined. Even if your 9-to-5 job is more 'cubicle' than 'canvas,' the bohemian ambiance serves as a refreshing counterbalance.
Roosevelt Row is more than just an arts district; it's a community. Events like First Fridays—an open-air market of arts and crafts—make it easy to socialize and feel a part of something greater. Plus, with ASU's Downtown campus nearby, it's a hub of youthful energy and intellect. Affordability is another winning factor.
While some Phoenix neighborhoods can break the bank, Roosevelt Row offers budget-friendly living options without compromising on quality or style. A match made in heaven for young professionals with an artistic soul.
3. Arcadia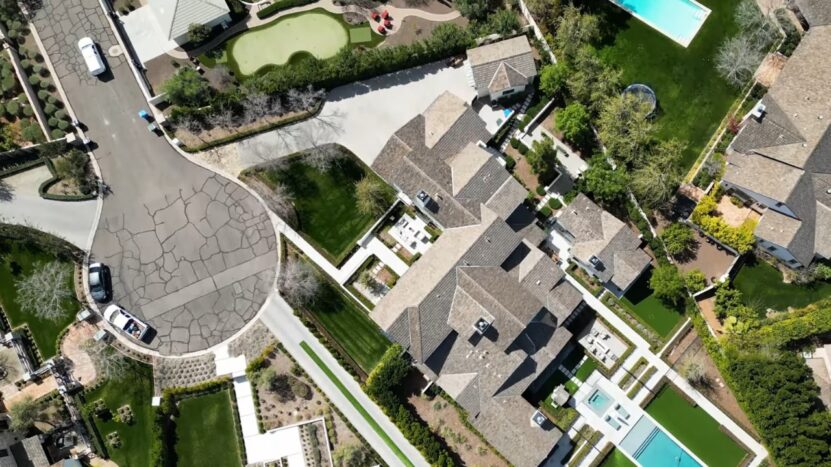 Upscale Living: Luxury homes and high-end apartment complexes.
Outdoor Adventures: Proximity to Camelback Mountain and the Arizona Canal.
Social Scene: Chic eateries, boutique shopping, and cozy cafes.
Arcadia offers a luscious blend of urban sophistication and suburban comfort. For those who enjoy the finer things in life but aren't willing to sacrifice convenience, this neighborhood is for you. Nestled between Phoenix and Scottsdale, Arcadia offers the best of both worlds.
Outdoor enthusiasts will relish the proximity to Camelback Mountain—a hiking paradise right in your backyard. The Arizona Canal also meanders through the neighborhood, offering walking and biking paths for the more leisurely adventurer.
Nightlife in Arcadia is a mix of upscale dining and laid-back lounges. Think farm-to-table restaurants and wine bars with sommeliers. The community vibe is strong, and you're likely to run into friendly faces whether you're grocery shopping or attending a local yoga class. A balanced lifestyle is not just a possibility in Arcadia; it's a guarantee.
4. Ahwatukee Foothills
Family-Friendly: Known for excellent schools and low crime rates.
Recreational Activities: Golf courses, hiking trails, and community parks.
Affordability: Reasonable home prices and plenty of rental options.
Ahwatukee Foothills is your neighborhood if you're thinking about future family plans. This community-centric area boasts excellent public schools, low crime rates, and tons of recreational opportunities for the entire family.
South Mountain Park is the crown jewel of Ahwatukee, offering over 50 miles of hiking, mountain biking, and horseback riding trails. Or if you prefer a more laid-back approach to leisure, spend your weekends on the pristine golf courses scattered throughout the area. Ahwatukee Foothills offers a unique blend of community spirit and independence.
Even though it's only a 20-minute drive from Downtown Phoenix, it feels like its own small town. Plus, the cost of living won't have you fleeing for the suburbs, making it a solid choice for young professionals with a family—or plans for one.
5. Midtown
Education & Healthcare: Presence of significant institutions like hospitals and universities.
Green Spaces: Parks like Steele Indian School Park offer a slice of nature.
Connectivity: Well-connected through public transport options.
Midtown Phoenix is ideal for young professionals in education, healthcare, or public service. With institutions like Phoenix College and major hospitals in the area, you're not just close to work—you're entrenched in a hub of intellectual capital.
Living in Midtown means you don't have to compromise between city living and green spaces. The sprawling Steele Indian School Park offers everything from picnic spots to paddle boating. A weekend picnic is just a short walk away. Connectivity is another major advantage of living in Midtown.
Multiple light rail stations serve the area, ensuring that you're never too far from any part of the city. An efficient commute is the cherry on top of a fulfilling work-life balance.
6. Biltmore Area
High-End Retail: Home to the renowned Biltmore Fashion Park.
Real Estate: Luxury condos, modern apartments, and historic homes.
Career Prospects: Numerous financial and commercial enterprises.
If you're climbing up the corporate ladder and want to live in a neighborhood that matches your ambitions, the Biltmore Area is the place for you. This is where luxury meets career aspirations. Imagine living minutes away from some of the city's finest dining establishments and shopping destinations like Biltmore Fashion Park.
Accommodation here is as grand as you would expect. From opulent condos overlooking the Arizona Biltmore Golf Club to more modest yet equally luxurious apartments, the Biltmore Area makes sure you live a high life.
What's more, the Biltmore Area is a powerhouse of financial and commercial activity. Many local and international businesses have set up shop here, meaning your next big career move might just be a stone's throw away.
7. Tempe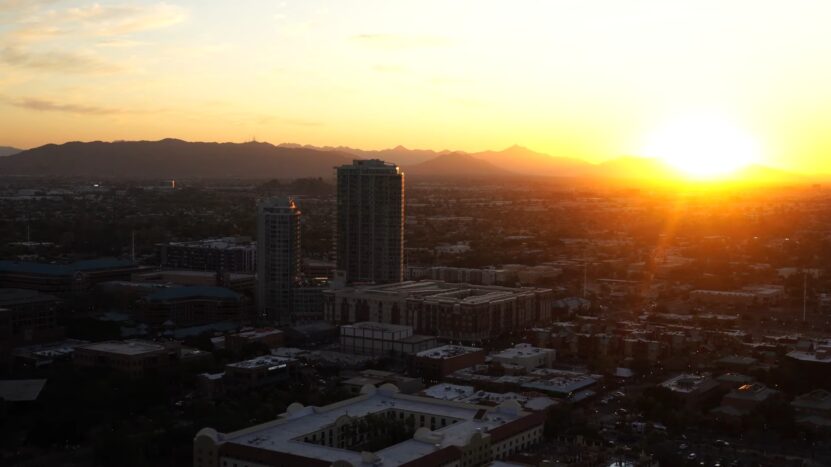 Academic Thrust: Home to the sprawling Arizona State University campus.
High Energy Vibes: Mill Avenue offers an electric nightlife with bars, clubs, and indie music spots.
Career Launchpad: A plethora of entry-level jobs, internships, and networking events to kickstart your career.
Tempe isn't just a college town—it's a young professional's haven. While the presence of Arizona State University adds youthful energy, the city has far more to offer. Tempe is a petri dish of innovation and opportunity, making it ideal for those looking to kickstart their careers.
Mill Avenue is your go-to for all things social—a pulsating vein of the city that never sleeps. Its cafes are as perfect for early morning coffee as they are for late-night study sessions, while the clubs and bars buzz with activity well into the night. You're never too far away from a good time.
The job market in Tempe is robust and diversified. Whether you're a fresh graduate looking for an entry-level role or a young professional aiming for the next big thing, you'll find it here. Companies often collaborate with the university for job fairs and networking events, giving you a straight shot at your next opportunity.
8. North Central Phoenix
Architectural Blend: Historic homes share the landscape with sleek, modern apartments.
Culinary Diversity: From trendy cafes to fine dining, options abound.
Central Location: Situated conveniently between Downtown and Uptown Phoenix, offering the best of both.
North Central Phoenix presents a unique blend of the old and the new, a place where tree-lined streets meet urban convenience. You'll find Spanish Revival homes standing tall next to modern condos, creating a diverse yet harmonious atmosphere perfect for any young professional.
The food scene in North Central Phoenix is nothing short of impressive. Whether you fancy an intimate evening at a high-end restaurant or a casual catch-up at a neighborhood cafe, you're spoiled for choice. Add a myriad of bars and lounges into the mix, and you've got your social calendar filled.
Being centrally located means you get the best of both worlds—the hustle and bustle of Downtown Phoenix and the chic, trendy vibe of Uptown. With convenient public transport links, you're never too far from your workplace, making it a prime location for striking that elusive work-life balance.
9. Uptown Phoenix
Thrift Heaven: Known for its vintage stores and quirky boutiques.
Global Palate: A plethora of international cuisines are just a walk away.
Entrepreneurial Spirit: Abundant co-working spaces and regular networking events.
Uptown Phoenix is a treasure trove for the eclectic soul. If you have a penchant for all things vintage, you'll feel right at home amid its numerous thrift stores and vintage boutiques. But don't let the retro vibe fool you—Uptown Phoenix is as forward-thinking as they come, especially if you're an aspiring entrepreneur.
Foodies will rejoice at the smorgasbord of dining options available. From sushi bars to Brazilian steakhouses, you can tour the world on a plate without leaving your neighborhood.
Whether you're entertaining clients or enjoying a date night, Uptown has got you covered. Entrepreneurially inclined? Uptown Phoenix is a hive of co-working spaces and regularly hosts networking events aimed at young professionals. With such a resource-rich environment, this neighborhood isn't just a place to live; it's a place to thrive professionally.
10. Chandler
Tech Hub: Hosts an array of tech companies and promising startups.
Family-Friendly Feels: Ample parks, top-notch schools, and various community events.
Housing for All: From lavish estates to budget-friendly apartments, there's something for everyone.
If you're a techie, look no further than Chandler. Often dubbed the 'Silicon Desert,' this neighborhood is home to both giant tech companies and buzzing startups. It's not just a place to work but a community that fosters innovation and growth.
Don't think that Chandler's all about circuits and code, though. The area offers a balanced lifestyle with its numerous parks, well-regarded schools, and community events that range from farmers' markets to arts and crafts fairs. If you're planning for a family, Chandler is future-proof.
Another significant advantage is the varied housing options. Whether you're looking for a luxury home to match your ambitious career trajectory or a cozy apartment that doesn't bite into your paycheck, Chandler accommodates. With a robust job market and a high standard of living, you'll feel like you've hit the jackpot.
FAQs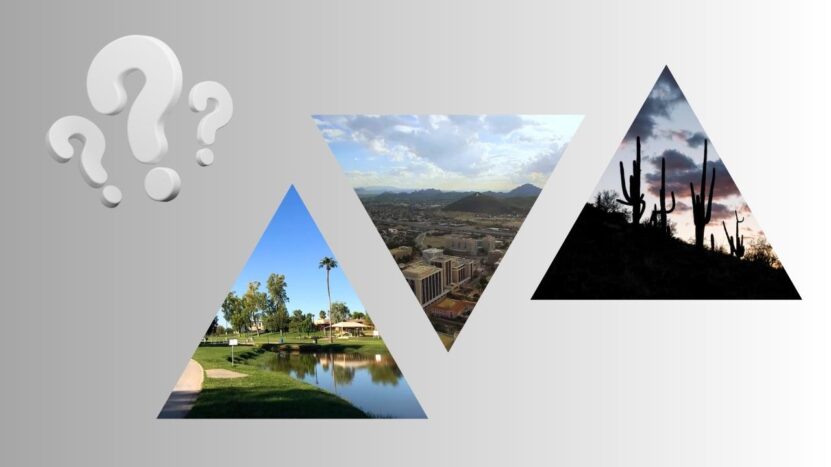 How Do Public Transport Options Vary Between These Neighborhoods?
Public transport options can vary significantly across these Phoenix neighborhoods. Downtown Phoenix, for example, is extremely well-connected with light rail, buses, and even a bike-sharing program.
Areas like Tempe also have strong public transport due to the presence of Arizona State University. On the other hand, neighborhoods like Chandler are more car-dependent and may not offer as many public transport options.
Are There Any Up-And-Coming Neighborhoods that Didn't Make the List but Should Be on Young Professionals' Radar?
Yes, areas like Gilbert and Peoria are worth keeping an eye on. Gilbert has been experiencing rapid growth and offers a mix of suburban comfort and new business developments.
Peoria is attracting young families and professionals with its affordable housing options and emerging job market. Both could be ideal for those who are looking to get in on the ground floor of a rising area.
How Pet-Friendly Are These Neighborhoods?
Pet-friendliness can vary. Downtown Phoenix and Tempe tend to be more pet-friendly due to the availability of dog parks and pet-friendly apartments and cafes. North Central Phoenix, with its tree-lined streets, offers a great environment for dog walking.
On the other hand, neighborhoods like Chandler, while family-friendly, may have fewer amenities specifically aimed at pets.
How Does the Cost of Living Compare Between These Neighborhoods?
The cost of living can differ quite a bit. Downtown Phoenix and Arcadia tend to be on the higher end due to their proximity to job markets and lifestyle amenities. North Central Phoenix and Uptown Phoenix offer a moderate cost of living, balancing out conveniences with costs.
Chandler and Tempe might offer a slightly lower cost of living but may require you to compromise on certain lifestyle amenities or face a longer commute.
What Types of Outdoor Recreational Activities Are Available in These Neighborhoods?
Outdoor activities can range from hiking and mountain biking in areas near Arcadia and North Central Phoenix to water sports in neighborhoods close to Tempe Town Lake. Downtown
Phoenix offers a range of parks and open spaces, while Chandler and Gilbert offer excellent family-oriented outdoor activities like community gardens and sports leagues.
What Is the General Safety Situation Like in These Neighborhoods?
Safety can vary, but overall, Phoenix has a fairly average crime rate compared to other U.S. cities of its size. Downtown Phoenix has a visible police presence, especially during events. Areas like Chandler are known for being particularly safe, especially in family-oriented communities.
It's always a good idea to check the latest crime statistics for a comprehensive understanding of the safety situation in a particular neighborhood.
Final Words
There you have it—ten Phoenix neighborhoods where you can simultaneously nurture your career and lifestyle. The right neighborhood can make all the difference, so choose wisely and thrive.
Each area offers a unique blend of amenities, community spirit, and job opportunities. Whether you're an ambitious executive, a creative genius, or a future family planner, Phoenix has a neighborhood to suit your professional and personal needs.